Yoga Flow (1)
This class is taught by: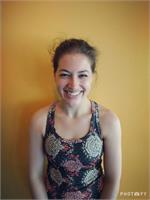 I first encountered yoga after soccer-related knee-injury in high school. I was drawn to the calm state of mind a good yoga class created, so I began practicing yoga in a variety of styles. But the more I practiced, the more questions I had. The turning point for me was taking a class from an Iyengar-trained Ashtanga vinyasa teacher in Las Vegas. I knew I had found the style for me. I loved the discipline, focus, and intelligence behind the Ashtanga primary series, but I still had more questions than answers. I wanted to know how to make Ashtanga and its benefits more accessible to yoga students at all ages and stages of practice. I traveled to Mysore, India for my 200 hour teacher training, where I learned how to teach the practice to students at every level with the use of blankets, blocks, straps and other yoga props. I see the physical practice of yoga, no matter the style, as a pathway toward a deeper, more transformative way to live one's life to the fullest. My wellness journey has introduced me to Pilates, another beautiful, intricate, and alignment oriented practice. I am very interested in its rehabilitative and pre-habilitative applications. As I complete Chaturanga's intensive Pilates teacher training, I am excited to integrate the best of both disciplines and allow their innate intelligence to complement each other. Whether for Pilates or yoga, I look forward to seeing you on the mat!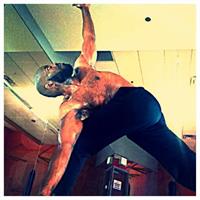 Akhu was born in San Diego, CA and moved to Chicago as a toddler. Having traveled often since the age of 18, and even living abroad for several years, (Japan/Holland/Nigeria) Akhu considers himself to be a world citizen. (among other things). Akhu has lived/is living many lives in this incarnation, including the life of a Father of 3 beautyfull boys, a poet, an author, a U.S. Marine, an information systems engineer/consultant, a philanthropist, a Reiki healer, and his current passion that has brought you here now.
After responding to a tech support issue at Chaturanga's studio, Akhu met the owner of Chaturanga, Marylee, just days before Chaturanga's grand opening. Marylee and Akhu conversed, and vibed well enough that they agreed on bartering their business' services. Akhu soon after joined Chaturanga's worktrade team and since then, Akhu has been at the forefront, and behind the scenes promoting and supporting Chaturanga every way possible...with none more pertinent than as a Yoga instructor.
After attending Chaturanga's first Yoga teacher training course, Akhu was certified and as even a surprise to him, he has been teaching Yoga faithfully since that day in 2013 when he received his C.Y.T. status.
After nearly 10 years of personal practice, and more than three years instructing, Akhu has organically honed the skart(skill/art) of helping others go deeper into their practice...Deeper into their breath...And most importantly, deeper into the moment of here & now. Many have commented feeling as if they were hypnotized throughout the Yoga practice with Akhu, yet he insists that in his class, you are freed from the hypnosis of the media, the society, and the world...and you are once again reunited with real life, which exist right here...right now, nowhere else. Helping others to become powerfully present is Akhu's gift to his students in each & every class he instructs.
With a rich understanding of the importance of the breath, Akhu is a wonderful instructor for beginners as well as yogis that are more advanced in their practice. He is also a well spring of wisdom, knowledge, and genuine love for all that come and share their practice with him.
Upcoming classes: