Pilates Equipment (1-2)
This class is taught by: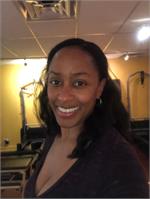 Leslie was born and raised in Hyde Park, and no matter where she's roamed, has always felt called back to her home neighborhood. After working in corporate America as a project manager for over 15 years, Leslie knew she wanted to spend her time doing something more fulfilling. In May 2015, she took a leap of faith and left corporate life behind. Opening up to Universal guidance, she was led to the Chaturanga Fitness Pilates Teacher Training program. This was a perfect fit for Leslie as fitness, tied into the mind-body-soul connection — so central to her personal life — could now be applied in her daily working life as well. Being deemed a "natural" by the Pilates Program Head, as well as by fellow Chaturanga Pilates teachers, she is now certified in Pilates Mat Instruction, and continues to build her skills in mat and equipment repertoire as an apprentice at Chaturanga Fitness. Leslie also loves to obstacle race and travels around the country to compete, coming home to two zany and lovable cats, Edgar and Mishka.
Mixed Level Pilates Equipment classes are appropriate for most levels of fitness. In Mixed Level classes, you will continue working to develop foundation Pilates skills, such as stability in the pelvis and low back and spinal elongation, in a variety of challenging contexts. You will also be introduced to new exercises that build shoulder stabilization and upper body strength and challenge your strength and coordination. Some experience with the Pilates Level 1 classes is highly recommended before enrolling in Mixed Level Classes.
Upcoming classes: