Marylee Bussard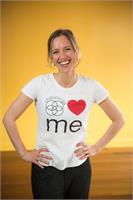 I began my Pilates journey in 2000, on the recommendation of a physical therapist. In my case, it was hyper-mobility, a condition of being too flexible, which led to my injuries. Pilates showed me the importance of balancing flexibility and muscular strength and I became certified to teach in 2004. Since that time, I have observed hundreds of bodies over thousands of Pilates sessions. I am graduate of the Soma Institute of Clinical Massage Therapy in Chicago, and in 2013 I became certified in KMI Structural Integration (
www.anatomytrains.com
). My passion is working with physical therapists and chiropractors to coordinate exercise and massage regimens that help clients achieve sustained results. In my Pilates sessions, body and mind unite on a journey of self-discovery. Through focused observation of your body in motion, you will build postural strength and balance and experience a renewed enjoyment of vital movement both on the mat and in your every day life.
Marylee Bussard instructs the following:
Explore a range of advanced Pilates and fusion repertoire using all apparatus, as well as barre, jumpboard, and suspension training. This class is high intensity and requires a solid understanding and execution of Pilates fundamentals concepts and the awareness to self-monitor and adapt exercises to accommodate individual needs.




One part corrective exercise, one part Pilates-based core workout, and one part self-massage using the foam roller and other props, Pilates Therapy covers all the bases. Appropriate for all levels, this class moves at a deliberate pace and heeds best practices for safe exercise making it a great option for people with non-acute chronic back pain, hip replacements, degenerative changes in the spine, autoimmune issues, and transitioning to group exercise from Physical Therapy. The only requirement is the ability to get up and down from the floor. Pilates Therapy is a 55-minute Therapeutic Re-boot Camp for your Body!




Chaturanga's Body School is an 8-week functional anatomy program for anyone who wants to understand the incredible human body. This class centers around the study of basic anatomy, using clay to build muscles while learning about them. You will also learn practical lessons from the greatest minds in modern movement science, like: how to improve your movement habits and avoid injury; how the power of the mind can improve tolerance to pain; how to preserve the youthful elasticity of your fascial tissues; how the body gets shaped by both mechanical and emotional tensions; how movement changes your DNA; and more! This class will not only change the way you exercise, it will change how you move through life.

Chaturanga's Body School Curriculum consists of 24 hours of training in Anatomy, functional movement science, neuroscience of pain, and more, all taught in fun and accessible modules that involve lecture, movement, and discussion. Body School is a pre-requisite for Chaturanga's Pilates and Yoga Teacher Training Programs.

Cost is $750 for all 8 sessions or $720 if you register before 2/21 Use Promo Code "BodySave30"

Drop in to individual sessions for $100.

View weekly class schedule:

https://drive.google.com/file/d/0ByBJXOywIURzUjN4Tktxd0JETjQ/view?usp=sharing




New to Pilates Equipment? This class is the perfect introduction to the Pilates equipment and exercises... and Chaturanga's unique approach to teaching it. Led by studio owner and functional movement guru, Marylee Bussaard, this ongoing introductory class is dedicated to helping people establish movement habits that prolong health and avoid injury. As someone who experienced sports-related injuries early in life, she developed a natural curiosity for learning to move well, and a passion for teaching others to do the same. A great choice for Intro Pass holders, yogis branching out into Pilates, and experienced Pilatistas who want to revisit the foundations. Get ready to integrate your mind, body, spirit, and heart!