Marylee B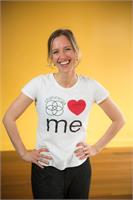 I began my Pilates journey in 2000, on the recommendation of a physical therapist. In my case, it was hyper-mobility, a condition of being too flexible, which led to my injuries. Pilates showed me the importance of balancing flexibility and muscular strength and I became certified to teach in 2004. Since that time, I have observed hundreds of bodies over thousands of Pilates sessions. I am graduate of the Soma Institute of Clinical Massage Therapy in Chicago, and in 2013 I became certified in KMI Structural Integration (
www.anatomytrains.com
). My passion is working with physical therapists and chiropractors to coordinate exercise and massage regimens that help clients achieve sustained results. In my Pilates sessions, body and mind unite on a journey of self-discovery. Through focused observation of your body in motion, you will build postural strength and balance and experience a renewed enjoyment of vital movement both on the mat and in your every day life.
Marylee B instructs the following:
Pilates is unique among exercise programs in its effectiveness at providing stability for the spine and the joints. It is an excellent practice on its own, but when combined with other practices like running, biking, and yoga, Pilates may totally change the way you approach these activities. Pilates Matwork focuses on a sequence of traditional and contemporary core routines, and often incorporates small props to add to the fun and challenge.




This is a mixed level Vinyasa Flow class with a restorative gong bath during savasana, the final relaxation posture.




Mixed Level Pilates Equipment classes are appropriate for most levels of fitness. In Mixed Level classes, you will continue working to develop foundation Pilates skills, such as stability in the pelvis and low back and spinal elongation, in a variety of challenging contexts. You will also be introduced to new exercises that build shoulder stabilization and upper body strength and challenge your strength and coordination. Some experience with the Pilates Level 1 classes is highly recommended before enrolling in Mixed Level Classes.