Lani G.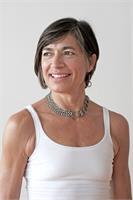 I'm proud to say I'm one of the oldest yoga teachers I know, and as such I consider it my duty — my sadhana, to use a favorite Sanskrit word — to continue teaching myself and others how to keep yoga in our lives forever. Years of intense play: sports, dance, horseback riding, skiing and triathlons — not to mention parenting — have kept me fit, but life takes its toll no matter how hard you work at defying the aging process. My firm belief, however, is that if there is a fountain of youth, it's yoga. I've taught for over a decade now, and have seen how yoga is truly limitless in its ability to keep us in compassionate touch with our body-mind-spirit selves. I did my initial training with Ana Forrest, then Daren Friesen, and many other master teachers including Shiva Rae, Tias Little, and Aadil Palkhivala. At this point my style is so eclectic I hesitate to label myself, but the closest would be vinyasa flow. Core strength, reverence for the breath, respecting one's natural range of motion, and always seeking for the sense of flow are essential to my style. I love language and music, to which ends I incorporate chanting, Sanskrit and poetry into most classes. Being a psychotherapist as well, I value the addition of yoga to my healer's toolkit, and try to foster a sense of community — the kula, or community of the heart. I credit my students, my patients, my husband and son with much of my inspiration. The rest comes from Yoga!
Lani G. instructs the following:
Yoga Flow (also known as Vinyasa Yoga, which means "linking") links breath to movement; every movement has a breath that corresponds. Creating energy, movement, and heat within the body through a sequence of breath-synchronized movements. During this flow class you will be guided to move from one pose to the next during an inhale or exhale.