Erika S.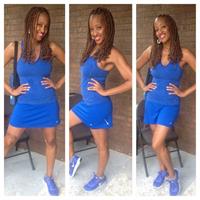 At age 16, Erika was able to participate in her high school's After School dance program, with instructor Marshall Lindsay, and discovered her love of dance!
She decided to take things further by taking classes at that same instructors school of dance and charm, but could not afford tuition. That same instructor allowed her to teach her own original choreography to offset the costs for tuition, and so her love of teaching began! That experience lead Erika to audition and secure a partial scholarship in the "chance to dance" program at Joseph Holmes dance theater in Chicago Illinois.
Erika minored in dance choreography at Western Illinois University while simultaneously performing with the university's Western wranglers dance line and acting as co-choreographer for the Gwendolyn Brooks cultural center dance troupe.
After college Erika taught numerous dance programs with the Chicago Park District and dance/fitness classes for all ages at the Southside YMCA.
Erika is currently a Cardio Strength/Silver Sneakers instructor and enthusiastic sub, at Chaturanga Fitness studio and certified Zin Zumba instructor at Skyy Level Group fitness in Chicago.
Aside from fitness, Erika works as an independent contractor commercial print model, hairstylists, crochet artist and nutrition assistant for her holistic health coach sister, Monika Simmons.
Erika S. instructs the following:
Zumba is a fun and effective cardiovascular workout that combines Latin and international music and dance routines with aerobic and fitness interval training. In a one-hour class you might sample moves from salsa, merengue, cumbia, samba, African dance, and even Bollywood! No dance background is necessary. The whole point is to have fun... and you can't help but smile ear to ear as you burn hundreds of calories. Amazing, right???!!!

In addition to shaking your tush, you will shake up your upper body muscles with Zumba Tone sticks. These weighted "maracas" add a musical AND muscular addition to your Zumba class, and are excellent for toning up your arms!