Sarah B.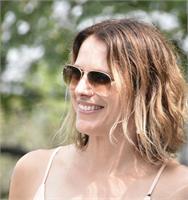 Sarah came to Pilates after a back injury several years ago which seriously impacted her ability to exercise. Pilates Therapy at Chaturanga offered a gentle introduction to the Pilates practice and philosophy which started Sarah on her journey to becoming a PMA CPT (certified Pilates teacher) through the Chaturanga Teacher Training program. During her training, Sarah became curious about Pilates for Osteoporosis and was inspired to take further training at Basi Pilates in California to understand how Pilates can help bone strength, and to ensure that her Pilates Therapy and Osteo Strength classes adhere to bone safe principles for those with the condition. Through Pilates, Sarah hopes to help others improve their core stability, overcome their injuries and become stronger and more flexible humans, so they can be at their best and live life to the fullest!
Sarah B. instructs the following:
Mixed Level Pilates Equipment classes are appropriate for most levels of fitness. In Mixed Level classes, you will continue working to develop foundation Pilates skills, such as stability in the pelvis and low back and spinal elongation, in a variety of challenging contexts. You will also be introduced to new exercises that build shoulder stabilization and upper body strength and challenge your strength and coordination. Some experience with the Pilates Level 1 classes is highly recommended before enrolling in Mixed Level Classes.




One out of every two women over the age of 50, and one in every four men, have low bone density - either osteopenia or osteoporosis. Even younger adults should be thinking about their bone health now - especially if they have a parent who has been diagnosed with one of these conditions. This Osteo Pilates Group Equipment class is specifically designed to improve your bone health through the use of weight bearing exercise and optimizing posture. In addition the class will also provide you with the other benefits of pilates; improving strength and muscle mass, balance and flexibility, all of which can help keep the contribute to correct alignment and help prevent falls. The class will be careful to avoid those exercises/positions which are contraindicated for those with reduced bone density. Some experience with the Pilates Foundations classes is highly recommended before enrolling in Mixed Level Classes.




PGE 2
Pilates Equipment Level 2 classes are for those who feel comfortable in the Mixed Level classes and desire, both mentally and physically, to explore some of the more advanced, and at times more complicated, repertoire in the Pilates universe. In Level 2 classes you will be expected to be able to integrate foundation Pilates skills in a variety of challenging contexts at a fairly brisk pace, so be prepared to stay focused and work hard! These advanced classes are best suited for those who: have a fairly firm grasp of Pilates fundamentals (principles and cueing), are generally physically fit and flexible, and have the desire and motivation to conquer new challenges.




One part corrective exercise, one part Pilates-based core workout, and one part self-massage using the foam roller and other props, Pilates Therapy covers all the bases. Appropriate for all levels, this class moves at a deliberate pace and heeds best practices for safe exercise making it a great option for people with non-acute chronic back pain, hip replacements, degenerative changes in the spine, autoimmune issues, and transitioning to group exercise from Physical Therapy. The only requirement is the ability to get up and down from the floor. Pilates Therapy is a 55-minute Therapeutic Re-boot Camp for your Body!